If you or someone you know is experiencing domestic abuse, you can get help

The Staff Counselling Centre offers compassionate, non-judgemental and confidential help and support to all staff with a University contract. Staff are entitled to 8-10 sessions of one-to-one counselling that can help enormously in processing what has happened to you. We are also able to signpost to other services. You can self-refer from our website, and your information will be held securely on our database. If you do not have access to a safe space at home for online therapy, we can provide a safe room in our building.
Domestic Abuse is complicated, and the insidious strategies employed by perpetrators to draw victims in, form part of the explanation as to why it is so difficult to reach out for help and support. But it is not your fault; only abusers are responsible for their actions. Domestic abuse affects all socio-economic groups.
Sadly, the pandemic has increased isolation, in turn making it easier for perpetrators to control and abuse their partners. Hence, as of June 2020, Women's Aid have experienced a 91% increase in referrals for online support, and tragically, in the first two weeks of lockdown, ten women and two children were killed by their partner or ex-partner in England. More than three quarters of survivors have said that Covid-19 has made it harder for them to leave their abuser. It has also impinged on support services, and provided perpetrators with additional power such as restricting access to vaccination. (All statistics: Perfect Storm and other Women's Aid research: https://www.womensaid.org.uk/research-and-publications/)
Please, don't suffer in silence, seek help and support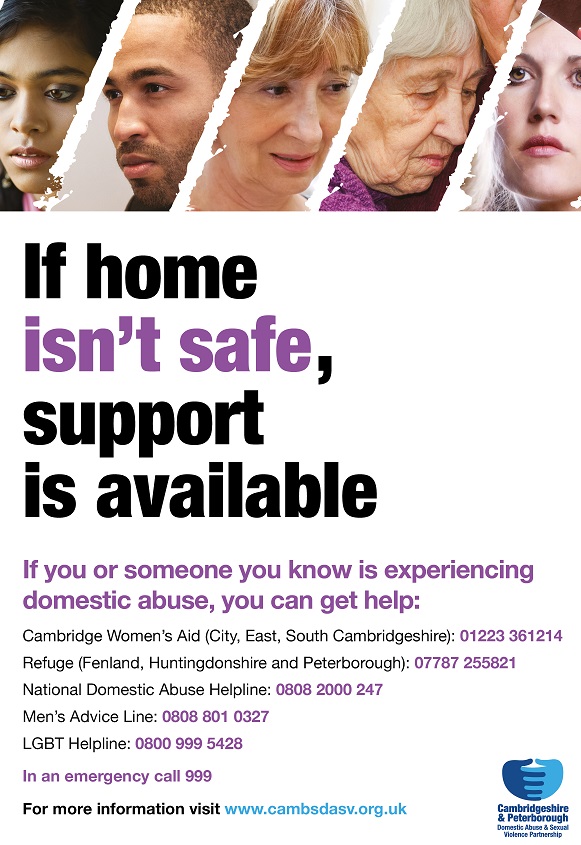 www.cambsdasv.org.uk